Hello Everyone … this week we are learning all about Pets. This week we are welcoming back our teachers that are home from college! So glad to have Miss Morgan and Miss Katey back at LRS for the summer. Be sure to say hi!
Here's a special message from Miss Kathryn: https://vimeo.com/414782932 and a books she wanted to share with you: https://vimeo.com/414782159
Maria had a Little Llama is a book read by Miss Morgen this week: https://vimeo.com/414783662
Miss Veronica was such a hit with her songs that she is back again with an encore: https://vimeo.com/414784441
Gross Motor Activity of the Week: Animal Movement Dice Game. Use the printable or make your own. As a family you can roll the dice and see what animal you get and how they should move.

https://www.3dinosaurs.com/wordpress/index.php/animal-walking-themed-gross-motor-dice/
Pet Art Activity: Play dough pet food. Have children roll up play dough into little balls for their favorite stuffed animal. They can also roll play dough out into lines and use scissors to cut it into little pieces.
Check out this play-doh recipe: https://www.iheartnaptime.net/play-dough-recipe/

Here's a fun Kids Cooking Activity: Animal waffles.
Some of the ingredient in the picture are waffles, berries, peanut butter, bananas and nuts, but you can be creative and use pancakes and toast instead. You can also switch out the peanut butter for nutella or jelly. https://recipes.birchbenders.com/recipe/animal-face-waffles/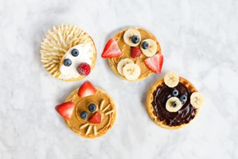 App of the Week: Noggin Preschool learning game is offering a 60 day trial free, so you can play along with all of your favorite Nick Jr. characters. https://play.google.com/store/apps/details?id=com.nick.noggin&hl=en